World TB Day 2019
Georgia Red Cross Society (GRCS) organized events devoted to the World TB Day 2019 at central and local levels.
To raise public awareness and knowledge on TB and decrease stigma and discrimination, informational-educational seminars and campaigns in public places were organized by the GRCS staff and leader volunteers.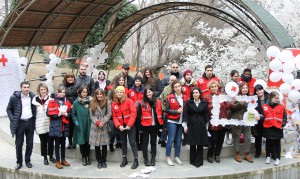 In the frames of informational-educational work seminars on TB were conducted in schools at central ("European School", "New School" and "Buckswood International School" in Tbilisi) and local levels.
On March 22, 2019 representative of the GRCS H&C Department participated in the video-conference devoted to the World TB Day organized by the IFRC Europe Zone together with the National Institutes of Health in USA and with support of World Bank. Participants of the conference were representatives of the IFRC, National Institutes of Health in USA, Governmental and Non-governmental sector from Russia, Azerbaijan, Belarus and Kyrgyzstan. During the conference GRCS representative made presentation to share the GRCS experience and psychosocial support approach as an integral component of TB prevention and control project of the GRCS.
On March 24, 2019 the GRCS hold an event dedicated to the World Tuberculosis (TB) Day in the "Mziuri" park in Tbilisi, where the general public had opportunity to get information about TB. In the frames of the event a concert with the participation of the Queen Tamar Boarding School boy band was carried out, the GRCS volunteers disseminated information-educational materials, and the main stage was given to the GRCS partners, beneficiaries and people who have already defeated TB. https://www.facebook.com/GeorgiaRedCross/videos/2231781233737366/UzpfSTEwMDAwMDE5MjMyMDg2NToyNjQ3NDg3NjUxOTM0Mjg2/
On March 24, 2019 the GRCS was invited for participation in the meeting dedicated to the World TB Day organized by the National Center for Disease Control and Public Health (NCDC). The meeting was attended by the key stakeholders working in the TB field, including the GRCS Secretary General, who made a presentation about the role of the CSOs and NGOs in fighting against Tuberculosis.
The GRCS annually joins celebration of the World TB Day and the campaign 2019 was devoted to call general public and remind responsible parties that "It`s time…" to fulfill the promises made at the UN's high-level meeting to provide 40 million people's access to diagnosis and treatment by 2022 and "it`s time" to defeat/overcome tuberculosis with joint efforts.
It is worthy to be mentioning that, the events organized by the GRCS attracted high interest from the media. The events were broadcasted by the famous TV channels and magazine. The GRCS representatives were invited in TV show of the famous TV channel (links of TV/media reports find below).
Events dedicated to the World TB Day 2019 organized during the week and on 24 March, 2019 were considered as successful, as awareness of the general public was effectively and successfully raised on TB issues at central and local levels.